Fellowship-Trained, Board-Certified

Hip and Knee Specialist
Personalized Care, Professional Approach.
Robotic Precision. Minimally Invasive Surgery. Small Incisions.
Rapid Recovery. Excellent Outcomes.
Talk with Dr. Morton Today!
Dr. Paul Norio Morton, MD, FAAOS, FAAHKS - Hip and Knee Orthopedic Surgeon
4.9

Stars - Based on

152

User Reviews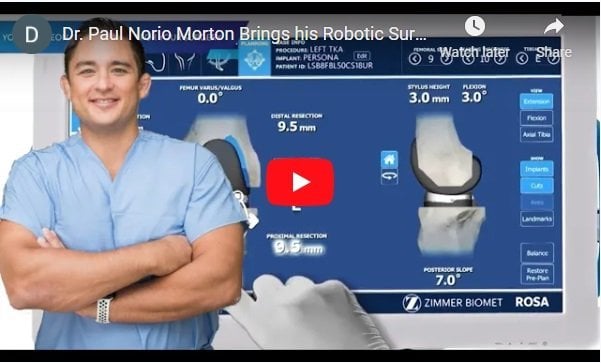 Get Back To Life Pain-Free with Dr. Morton
Latest Technology, Personalized Care
Hip and Knee pain is very common and can interfere with your everyday life and stop you from doing the things you want to do. The hip and knees are joints that are the largest joints in the body and very easy to incur. An injury to your hips or knees can prevent you from running, walking, sitting and many other day to day activities that we take for granted! Common causes of pain include arthritis, avascular necrosis, meniscus tears, fractures and ligament sprains (ACL).
Some orthopedic doctors only want to talk with you about surgery. There are many treatment options that might help you recover. Dr. Morton will talk with you about both surgical and nonsurgical options to recover quickly and get you pain-free faster.
Are you tired of suffering from Hip or Knee pain? You don't have to suffer! Talk with Dr. Moton today about different treatment strategies.
Hi, I'm Dr. Paul Norio Morton.
I was raised in Kea'au on the Big Island. While attending college in Ohio, I was also a volunteer firefighter. The feeling I got when helping in rescue operations convinced me that I wanted to become a doctor. My love of sports, helping people, and technology have come together in my Orthopedic Practice at the Queen's Medical Center.
I specialize in hips and knees and am the first Orthopedic Surgeon in Hawai'i who is Fellowship-trained in Robotic joint Replacement. Some of my patients have even nicknamed me "The Robot Doc." I believe robotic surgery is more precise, less invasive has fewer complications, and will get you back out there feeling pain-free faster.
And although I use the latest technology, I still believe in good, old-fashioned, friendly, and personalized care.
If you're having issues with your hips or knees, please give me a call today. Let's find the best solution for you and get you back to being active, again!
Mahalo for entrusting me with your care,
Dr. Paul Norio Morton, MD – Your Orthopedic Hip and Knee Surgeon
Dr. Paul Norio Morton is a Board-certified, Fellowship-trained orthopedic surgeon that practices on Oahu and the Big Island. He treats a broad range of orthopedic conditions, including arthritis, sports injuries, hip and knee replacements, trauma, and robotic joint arthroplasty. He believes in treating his patients with a holistic approach – incorporating patient's desires and expectations into the treatment of their musculoskeletal problems.
In his spare time, Dr. Morton enjoys covering mixed martial arts events. His passions include Brazilian Jiu-jitsu, traveling, hiking, swimming, water sports, and hiking. Dr. Morton embraces helping patients on their healthcare journey to get back in action and deciding when to pursue nonoperative and surgical care.