Talk with Your Revision Hip Replacement Today!
Choose Dr. Morton as your Revision Hip Replacement Surgeon Today!
Revision Hip Replacement Surgery
Total Hip Replacements are an incredibly successful procedure and allow many people to continue living an active lifestyle. In fact, the Lancet has named hip replacements the "Operation of the Century." Unfortunately, on rare occasions, even a total hip replacement may fail. There are several reasons that this could occur.
Should your hip replacement fail, Dr. Morton is an expert at failed hip replacements. You can schedule an appointment with him to discuss your treatment options.
A revision hip replacement surgery can sometimes be as simple as changing out the plastic liner that is seen in hip replacements. However, sometimes a revision hip replacement is considered a "salvage operation" and you may need to have different expectations on your outcomes. A revision hip replacement can be a longer, more complex procedure. Dr. Morton may need time to plan for your surgery. Your operation may require the use of specialized equipment, custom 3d printed implants or ordering parts to fit your implanted hip replacement.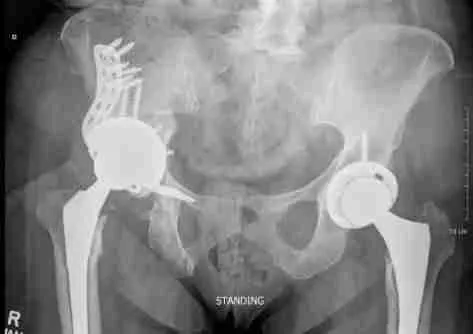 Fracture
A broken bone (also known as a fracture) occurs around the components of the implant after a trauma or fall. Many patients who have a broken bone around their implant require surgery. Dr. Morton will evaluate the amount of remaining bone around the implant, loosening of the implant, and the location of the break. After the evaluation, he will discuss with you
Reaction to Metal Ions
With long-term use, the metals in implants can break down and cause inflammatory reactions in the soft tissue. This is often exacerbated in metal-on-metal hip replacements.  Should there be significant damage to the bone and soft-tissue a revision surgery may be needed.
Heterotopic Ossification
It is not uncommon to see areas around your hip replacement that calcify on x-ray. This calcification is called heterotopic ossification. For most people, heterotopic ossification is of no consequence. Rarely, this ossification can cause your hip to become very stiff and lose motion. When this occurs, you may require surgery to remove the excess bone. Often planning for this surgery may require advanced imaging to plan and make sure that your nerves and arteries are not involved.
Infection
If bacteria is able to find its way to your hip replacement, infection can occur.  Infection can start when you are first in the hospital, after you return home, or years later. Your risk of an infection can be worsened by underlying medical conditions you may have and risks from exposure. As the bacteria develops, it can develop a "biofilm" which surrounds the bacteria, insulating it from antibiotics  Hip replacement infections can cause pain, drainage, and hip instability.  There are few good options for infected total hips. Dr. Morton will discuss with you options including removal of your hip replacement, revision, surgical debridement, or antibiotic suppression. Often, multiple surgeries are required to cure an infected total joint.
Implant Wear and Loosening
The cause of loosening isn't always clear.  Repetitive high-impact activities, high body weight and wear of the plastic liner between the ball and metal cup could be contributing factors.  There is a higher risk for loosening of total hip replacements for patients who undergo a hip replacement at a young age.  As the plastic component wears out, the tiny particles are attacked by your body's immune system.  When the immune system attacks healthy bone around your implant, it leads to a condition called "osteolysis". Loose implants lead to a painful hip replacement.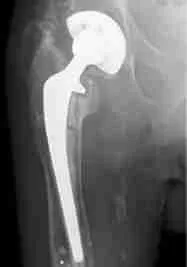 Recurrent Dislocation
The native hip joint is a ball-and-socket joint. An artificial hip is at a much higher risk for a dislocation than a native hip. Trauma and certain hip positions may cause the ball to escape from the socket. When this happens, your hip is considered dislocated, and can be very painful. Multiple hip dislocations may require you to have a surgery to realign your hip socket. Sometimes you may require a specially designed implant called a "constrained liner" to prevent hip dislocations.
A revision hip replacement may be a salvage operation and often requires more extensive preparation. You will need to have your previous medical charts so that they may be to be reviewed. Dr. Morton will evaluate all your imaging and x-rays. Occasionally he may order more advanced imaging such as a CT or MRI.  Laboratory tests will be ordered to determine if your hip is infected or having a reaction to metal components in your hip.
The risks of a revision hip replacement may be similar to your original hip replacement. You may have elevated risks due to new medical problems or the nature of your surgery. Risks include:
Implant loosening
Blood clots
Blood loss
Infection
Dislocation
Leg length inequality
Heterotopic ossification
Nerve or blood vessel damage
Dr. Morton is an expert in revision hip replacement surgery. Half of his practice involves revision joint replacement surgery, taking care of complicated problems that have been referred to him by other orthopedic surgeons.
In an attempt to reduce the number of revision hip replacements, Dr. Morton is very interested in performing the surgery to the best ability for the first time. Learn more about anterior hip replacements and robotic joint replacements to see how he is pushing the progress of orthopedic surgery.